Fellowship Overview
The Anesthesiology Critical Care Fellowship program at Virginia Commonwealth University Health System (formerly known as Medical College of Virginia) provides one year of comprehensive, multidisciplinary training in critical care medicine for up to two ACCM Fellows per year. Fellows will benefit from caring for a wide range of critically ill patients while working closely with our diverse and highly trained faculty at a leading academic medical center which boasts: a Level 1 trauma center, accredited burn center, solid organ transplantation service, the regional leader in mechanical circulatory support, and a comprehensive stroke center. Furthermore, Richmond, Virginia, on the James River is an attractively sized, dynamic city, with lots of green spaces and beautiful weather. It is an affordable place to live with easy accessibility to Washington, DC., Virginia Beach and the Outer Banks, and mountains for hiking.
Letter from Fellowship Program Leadership
Thank you for your interest in critical care medicine training at Virginia Commonwealth University Health System (VCUHS) in Richmond, Virginia. We know that you have many options when it comes to critical care training, and we believe we offer a clinical experience and educational curriculum that will prepare our graduates for a successful career in critical care medicine. VCUHS is a 1,125-bed tertiary referral center with a full complement of inpatient consultants and outpatient clinics.
Our multidisciplinary critical care faculty is composed of physicians from many different specialties, including Anesthesiology, General Surgery, Trauma Surgery, Emergency Medicine, and Internal Medicine. This breadth of experience allows our fellows to learn from a variety of different viewpoints, which will make them more well-rounded physicians. The patient population we serve is challenging, and includes patients undergoing emergent evaluation for ECMO or other durable mechanical circulatory support devices. We work with the surgical teams in each ICU to provide consistent and patient-centered care to these patients throughout their perioperative period. The core faculty is comprised of critical care fellowship-trained anesthesiologists, who have unique insight into the perioperative period, given their experience in both the operating rooms and the ICUs.
Our fellows rotate in various ICUs across the health system, and will take on a leadership role in each of them. This includes the Cardiac Surgery ICU, the Surgical ICU, the Trauma Burn ICU, the Transplant ICU, the Neurosciences ICU, and the Medical Respiratory ICU. We acknowledge that our fellows may arrive here with career interests already in mind, and therefore we offer a wide variety of electives to enhance the learning experience. One of our unique opportunities is a two-week rotation at Vibra Hospital of Richmond, a long-term acute care hospital (LTACH) where each fellow will learn to lead a critical care consultant service. This LTACH delivers physical therapy and rehabilitation to those patients who still require some invasive medical support (hemodialysis, ventilators) but do not require full-time ICU level of care, with a focus on the management of complex patients in a private practice setting where emergency medical resources are limited.
We believe we offer a unique training opportunity, accessibly located on the East Coast, a short drive from Washington, DC, the mountains, and the ocean. We invite you to explore the website and to reach out with any questions or requests for more information!
Warm regards,
Megan Rashid, MD, Program Director
Rami Maarouf, MD, Assistant Program Director
Program Overview
Program aims:
Foster physician leaders who demonstrate the ideals of professionalism, clinical excellence, and dedication to patient safety.
Prepare fellows for an academic career in a broad variety of multidisciplinary settings.
Cultivate the habits of lifelong learning, giving the fellows the tools to review scholarly articles and utilize evidence-based medicine.
Create clinical educators who will educate and encourage the next generation of physician leaders.
Program's goals and objectives:
Establish an environment of professionalism, clinical excellence, and dedication to patient safety.

The faculty will act as role models of professionalism.
Provide a comprehensive multidisciplinary experience commensurate with the high level of acuity and complexity in the patient population.
Expand and apply medical knowledge towards evidence-based care practices.
Lead projects geared towards patient safety and quality improvement.

Ensure that fellows are prepared for an academic career in their preferred setting.

Teach real-life skills through seminars on practical knowledge.
Expand medical knowledge through regularly scheduled didactic sessions reviewing the basics of critical care medicine.
Enrich clinical acumen during rotations in multiple specialized intensive care units.
Effectively lead a multidisciplinary medical team in the ICU.

Cultivate habits of lifelong learning and utilization of evidence-based medicine.

Participate in weekly journal clubs, including choosing articles as indicated.
Facilitate completion of a scholarly project, concentrating on a specific and measurable patient safety or quality improvement initiative.
Encourage critical thinking when choosing treatment plans, including self-guided research on topics of interest.

Create clinical educators who will teach and encourage the next generation of physician leaders.

Cultivate an environment of collaborative learning, through bedside rounds, didactic lectures, and simulation scenarios.
With graduated levels of responsibility, supervise junior residents in the performance of procedures.
Clinical Experience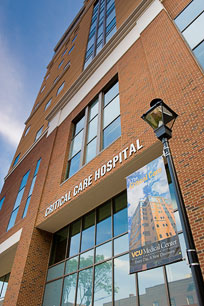 Each of the ICUs specializes in a specialized patient population. The Cardiac Surgery ICU (CSICU) at VCU Health System houses all postoperative cardiac surgery patients, as well as complicated and/or emergent thoracic surgery and vascular surgery patients. VCU performs over 1,500 cardiac and thoracic surgery cases annually, as well as almost 800 vascular procedures. In addition, VCU is a regional leader in extracorporeal membrane oxygenation (ECMO), with 40-60 adults annually requiring this intervention, and is one of the few centers in the world where a patient can receive a total artificial heart.
In addition, VCU Health System is a Level I trauma center verified in adult, pediatric, and burn trauma care, which admits over 3,000 patients and performs over 2,000 acute care surgeries annually. The Surgical Trauma ICU (STICU) sees the sickest patients from the trauma population, as well as postoperative surgical patients of the rest of the subspecialties – acute care surgery, transplant surgery, surgical oncology, colorectal surgery, urology, otolaryngology, gastrointestinal/bariatrics, orthopedics, obstetrics, and any other surgical subspecialty requiring admission to an ICU. Our transplant surgeons performed around 450 transplants last year, and are on track to exceed that number this year. The Evans-Haynes Burn Center is the oldest civilian burn center in the US, and admits over 500 patients annually.
The Neurosciences ICU (NSICU) has more than 2,500 admissions annually, comprising of neurosurgical patients, neurology patients, and trauma patients. The VCU Stroke Center has held the Gold Plus Performance Achievement Award for stroke measures and stroke quality from the American Heart Association every year since 2011. The patients in the NSICU are managed collaboratively with a neurocritical care team, neurology teams, and neurosurgical teams, working together to diagnose and manage critically ill patients with acute neurological conditions.
We offer numerous electives, listed below, but since VCUHS has many consultant groups, these are just a starting point and are flexible, depending on the interests of the individual fellow. One unique opportunity is a 2-week rotation at Vibra Hospital of Richmond, which is a local long term acute care hospital that serves patients who require extended hospitalization for complex medical issues such as prolonged ventilator weaning, physical rehabilitation, and wound care. Here, our faculty run a consultant service, working closely with the hospitalists and respiratory therapists to advance these patients' care. In addition, a 2-week Palliative Care rotation is required, given the importance of these discussions to a critical care physician. A 2-week Resource Intensivist rotation is also offered, during which the fellow is part of the rapid response team, acting as critical care consultants throughout the hospital.
Required electives

Palliative Care
Vibra Hospital of Richmond

Other electives

Bedside Ultrasound
Cardiology
Infectious Disease Medicine
Nephrology
Nutrition
Research
Resource intensivist
Transesophageal Echocardiography
Others as requested by fellow
Admission
How to Apply
VCUHS utilizes the San Francisco Match program. For more information regarding timelines and registration, please visit the SF Match website (link). This fellowship is open to board-eligible or board-certified anesthesiologists and emergency medicine physicians (who would require a two-year commitment). If this is the case, please indicate your intention in the personal statement. The completed application packet should include the following and eventually be uploaded to SF Match website:
If applying within the SF Match cycle:
SF Match Central Application Service (CAS) application, to include the following:

Personal statement
Three letters of reference
One must be from a training Program Director or Chair and the others from objective physicians (with one preferably from an intensivist) who have direct personal knowledge of your skills and ethics.

If applying outside of the SF Match cycle:

SOCCA Common Application Form (link) (SF Match)
Current curriculum vitae
3 letters of recommendation (including one from your Anesthesiology residency program director or chair)
Personal statement
Medical school transcript, including Dean's Letter
Medical School Diploma
USMLE or COMLEX Scores
AKTs and In-Training Exam scores (if available)
Institutional Requirements for International Applicants:
Completion of ACGME or ACGME-I certified residency in Anesthesiology
Passing performance on Steps 1, 2, 3
J1 visa eligibility strongly encouraged
If you fulfill those requirements, the application packet consists of:
SOCCA Common Application Form
Current curriculum vitae
3 letters of recommendation (including one from your Anesthesiology residency program director or chair)
Personal statement
Medical school transcript, including Dean's Letter (or equivalent)
Medical School Diploma
USMLE Steps 1, 2, 4 scores
AKTs and In-Training Exam scores (or equivalent)
Please send all application documentation to:
Program Coordinator: Keira Johnson - Lkeira.johnson@vcuhealth.org
Phone:804-628- 3251
Fax: 804-828-8300
Contact Us
Megan Rashid, MD
Program Director
Email: Megan.rashid@vcuhealth.org
Rami Maarouf, MD
Associate Program Director
Email: Rami.maarouf@vcuhealth.org